Virtual Career Fair for Shaw Air Force Base and the SC Military Community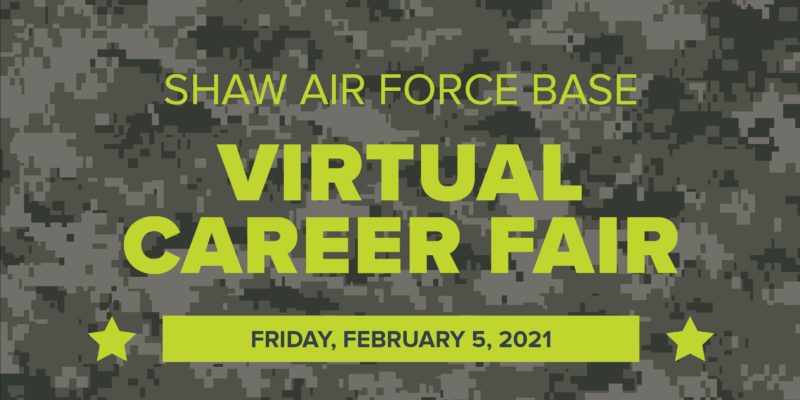 Virtual Career Fair for Shaw Air Force Base and the SC Military Community
FOR IMMEDIATE RELEASE
January 27, 2021
Contact: James Richter
Phone: 803.528.1288
Email: james@myscma.com
(Columbia, SC) – Today, SC Future Makers, a workforce initiative of the South Carolina Manufacturers Alliance (SCMA), announced that it will host a virtual career fair with Shaw Air Force Base and the South Carolina military community on Friday, February 5, 2021.
In partnership with the Sumter Economic Development Board, the SC Department of Veterans Affairs, The Boeing Company, and Hiring Our Heroes, this virtual career fair is for South Carolina employers who are looking to hire veterans, transitioning military personnel, and military spouses. The virtual career fair will utilize a mobile platform called Ping by Tallo, a matchmaking system for job seekers and employers. Ping by Tallo uses a customized algorithm to not only match but also prioritize applicants based on the needs of the company. Companies can review matches, view resumes, and contact job seekers both during and after the February 5th event.
Individuals who are a part of the South Carolina military community can learn what to expect using Ping, see a running list of participating employers, and register at www.scfuturemakers.com/shaw.
"Workforce development is key to the future of the South Carolina manufacturing and the business community," said John Wall, General Counsel and Vice President of Government Relations for the SCMA. "As a veteran, I know firsthand how important it is for transitioning service members to learn about the wonderful career opportunities that exist when leaving the military. This collaborative effort with our partners will allow service members, veterans, and military spouses to connect with the countless employments opportunities that exist in South Carolina and will establish a framework to be emulated at other military bases around our great state."
Through funding from SC Future Makers and a generous donation from The Boeing Company, this event is free to employers and members of the South Carolina military community. Since 2009, The Boeing Company has invested over $4 million in support of veterans programs throughout South Carolina.
"Boeing has a long history of supporting veterans during and after their time of service," said Lane Ballard, Boeing South Carolina Site leader. "Through this partnership with the South Carolina Manufacturers Alliance and SC Future Makers, we are honored to help veterans and military spouses transition into successful civilian careers, which in turn creates lasting opportunities for them and their families and strengthens our overall community."
South Carolina Secretary of Veterans Affairs, William F. Grimsley, praised the mission of the event.
"South Carolina has a rich history of being a military-friendly state, and there are tremendous career opportunities throughout our state for individuals who are veterans or are a part of the military community. Our Veteran, military member and family population provide a ready resource of highly trained, skilled, educated, motivated and dedicated people to stay in South Carolina as valued and contributing employees. This event and many more like them in the coming months are a wonderful chance to show off our State, its people, and our strong business community."
Sumter area leaders also echoed the importance of engaging transitioning military personnel, veterans, and military spouses.
"As a Sumter native I am proud this Virtual Career Fair will be held in conjunction with Shaw Air Force Base," said South Carolina Representative Murrell Smith. "There are so many talented Airmen and ARCENT Soldiers transitioning from the military at Shaw – both the military members themselves and their spouses. It is more important now than ever that we tap into this talent to meet South Carolina's employers' needs. If we can attract the talent we have in our men and women in uniform and their families to work for our South Carolina companies, I am even more hopeful for the future of our economy and our state."
"We have such an abundance of talent at Shaw Air Force Base, but it can sometimes be challenging for military spouses and service members who are transitioning into the workforce to match up with the right employment opportunity for them, "said South Carolina Senator Thomas McElveen. "It is important to continue seeking and finding avenues to connect these veterans and military families with the great job openings in the Sumter area and across our State. I thank and commend the South Carolina Manufacturers Alliance, the Sumter Economic Development Board, and SC Future Makers for their proactive, innovative, and collaborative approach to connecting the local community, Shaw Air Force Base, and the business community by hosting what will be a very productive event in Sumter."
"The Sumter Development Board is the region's galvanizing force to recruit new companies while helping our existing businesses thrive," said Greg Thompson, Sumter Development Board Chairman. "A key component for company success is the ability to find, hire and retain highly-skilled employees. Together with our allies, we are thrilled to launch this replicable and reoccurring event designed to help Shaw AFB's highly-skilled transitioning military members, veterans, and their families find great career opportunities while assisting our region's and state's world-class companies find the talent they need to remain competitive and successful now and in the future."
"The City of Sumter is grateful for Shaw AFB's many positive impacts on the Sumter community, and we are especially thankful for the great people that serve our nation right here in Sumter, SC," said David Merchant, Mayor of Sumter. "Any opportunity to support our nation's servicemembers and families is indeed a win-win for Sumter and the state of SC."
"Sumter County is very proud of our longstanding relationship with Shaw AFB," said James T. McCain Jr. Sumter County Council Chairman. "As we continue to find new ways to strengthen partnerships with our military and business community, programs like this are truly game-changers in helping our companies and military community establish connections for excellent career opportunities."
###
About SC Future Makers
SC Future Makers is an initiative of the South Carolina Manufacturers Alliance that connects emerging talent with opportunities in advanced manufacturing and other industries throughout South Carolina. Since its debut in 2016, SC Future Makers has worked with more than 100,000 students and more than 200 South Carolina high schools. Given this success with the education community, SC Future Makers saw an additional opportunity to build connections with the large talent pool of veterans and the military community across South Carolina.